No-Bake VEGAN FUDGE BROWNIES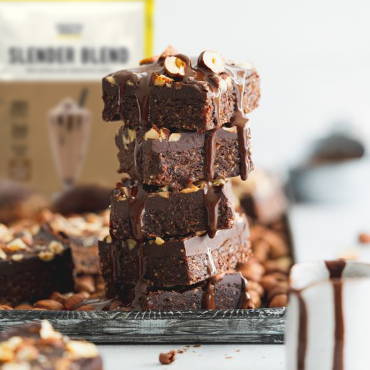 Vegan fudge brownies that DON'T NEED TO BE BAKED! SO MANY WINS!
The sweet dessert is light, rich, satisfying, and easy to make. Literally, no baking required. It's the perfect no-fuss recipe that you can do with your kids or friends.
The tidbits of coconut, oats, and chocolate will satisfy your sweet tooth on a cozy winter night. Read on for the step-by-step instructions on how to make them!
SERVING SIZE:10-12 (depending on size)
PREP TIME:10 minsCOOK TIME:1 hourTOTAL TIME:1 hour 10 mins
1 stick of vegan butter
2 cups white sugar
1/2 cup (rounded) Choc Slender Blend
1/2 cup oat milk
1/2 cup chunky peanut butter
1 teaspoon vanilla
2 cups Vegan Slender Porridge (or Quick Oats)
1 cup coconut shreds (if you don't like coconut, just use 3 cups of Vegan Slender Porridge instead of 2 cups)
1. Add the vegan butter, sugar, slender blend, and oat milk into a normal-size deep-dish pan and bring to a rolling boil.
2. Add the peanut butter and vanilla. Stir well.
3. Add the slender porridge and coconut. Mix well.
4. Use wax paper on top of a cookie sheet and drop spoonfuls of the mixture as if you are making a batch of cookies.
5. Chill for an hour.
6. Enjoy!