WHITE CHOCOLATE RASPBERRY PROTEIN PARFAIT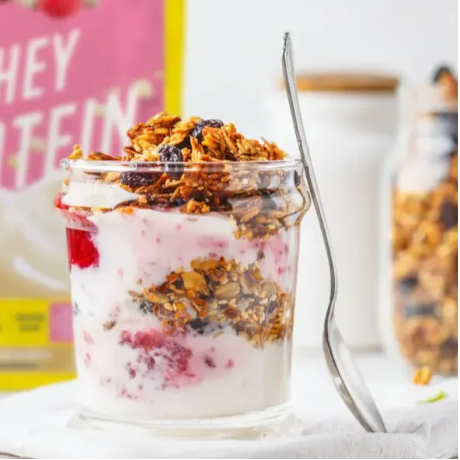 Ingredients
- 150g non-fat greek yoghurt

- ½ cup frozen raspberries

- 10g coconut flakes

- 20g Slender Granola
Method
In need of a high protein, low fat breakfast to satisfy your sweet tooth? This delicious parfait can be made ahead for those of you who need breakfast on the go - and with 35g protein it will keep you going all morning!
1. In a bowl mix together your yoghurt and Whey Protein until smooth.
2. In a jar layer your raspberries, yoghurt and granola to form your parfait.
3. Consume immediately, or alternatively make ahead and store with a lid in the fridge overnight for breakfast the next morning.
---
BLUEBERRY ALMOND GRANOLA PARFAIT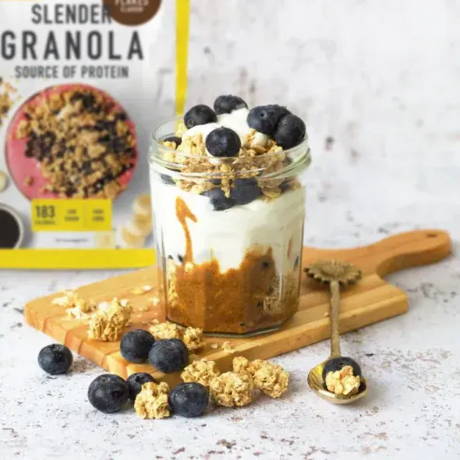 Ingredients
- 50g Slender Granola 

- 150g low-fat natural yoghurt

- 1tbsp almond butter

- 2 handfuls blueberries
Method
Enjoy this delicious, low calorie breakfast filled with anti oxidants.
1. In a jar, layer together the yoghurt, granola, blueberries and almond butter.
2. Screw on the lid and store in the fridge until ready to eat.
3. Serve with the yoghurt.
---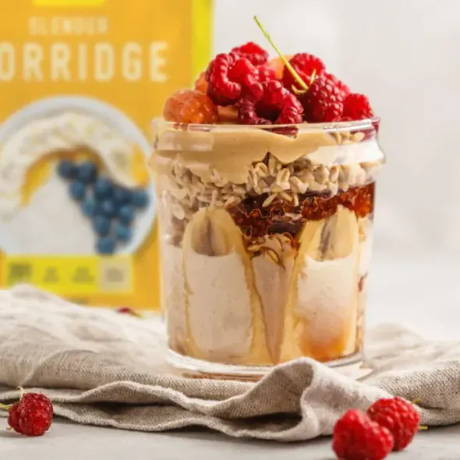 Ingredients
- 40g Slender Granola

-150g non fat Greek Yoghurt

- ½ cut frozen berries

- 1tbsp almond butter
Method